Serve Near
Calvary Loaves & Fishes
Calvary joins other area churches in hosting a free Saturday meal for the community on a rotating basis. Volunteers are needed to prepare and serve this meal on the Saturdays scheduled at Calvary.
Click here to view the Loaves & Fishes schedule.
Food Finders
Many volunteers are needed for this event to efficiently process the hundreds of requests from local community residents. For more information on the next Food Finders, please contact the Church Office.
Race for Grace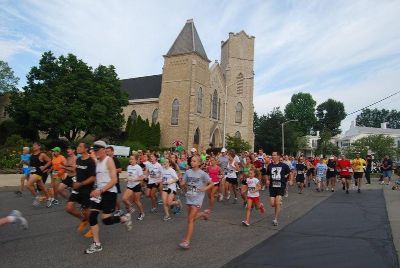 Calvary's 5K Race for Grace was started by our former pas, Rev. Doug Mankell and was designed to satisfy both competitive runners as well as those out for fun exercise.
Donations raised will support the Logansport Great Banquet ministry. Volunteers are needed for administration, publicity, and of course… to Race for Grace!
Click here for dates, cost, and more Race for Grace information.
Other projects
Calvary provides ongoing volunteer and financial support for many community missions. Watch the Sunday bulletins for announcements about these ministries.
Backpacks for Kids
Salvation Army
Emmaus Mission
Birthright of Logansport