September 22, 2021 - The Great Banquet
"On this mountain the LORD Almighty will prepare a feast of rich food for all peoples, a banquet of aged wine - the best of meats and the finest of wines. On this mountain he will destroy the shroud that enfolds all peoples, the sheet that covers all nations; he will swallow up death forever. The Sovereign LORD will wipe away the tears from all faces; he will remove the disgrace of his people from all the earth."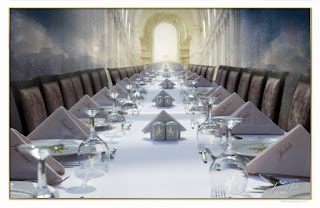 I recently attended a community Great Banquet hosted by our church (Calvary Presbyterian). Seventy-two hours of communal living. Worship. Communion. Sharing. Fun. Tears. Laughter. This type of retreat is not really my "thing" but I was thankful for the experience and the unexpected blessings that came from it.
I was reminded of something as I gorged on some of the best meat lasagna and cheesecake I have had in a while. Food is part of fellowship. And rich food is part of rich fellowship.
I've been worrying about whether I'm going to like the kingdom of God when it comes. I was fearful that salads were going to be my lot for a thousand years plus eternity. I know that God can change my palate but I was thinking about a world without fried chicken or ribs. And once again the Lord heard my concern and directed me to a passage that brought joy to my heart. Isaiah. A banquet. And meat.
Okay...I'm not that shallow and I actually have thought a lot about this as a teacher of Revelation on multiple occasions. The food may be real but the richness comes because of why we are eating it - fellowship with our Lord and immense thanks for the provision before us. And I'm not talking about the table. I'm talking about the no more tears, the no more death, no more sin for those who have been redeemed.
I think of two dishes that come to mind from both of my grandmothers. My Grandma Lute made the best homemade egg noodles. Thanksgiving and Christmas packed in around all my aunts and uncles. Celebration of family. Being together.
My Grandma Cains made the best Christmas ham. She always saved out a pineapple that had been marinating on top of it for hours and when she cut it in slices she would always save me an end. Celebration of family. Being together.
Both of those lovely ladies have since passed into glory but in Christ I will see them again. But every time I go to some homestyle restaurant or buffet and those delicacies are set before me, it's not the noodles and the ribs that I'm thinking about. It's about the joy of having those ladies in my life and sorrow of not having them here.
Imagine chairs and tables as far as the eye can see filled with the richest of delectable food. Beautiful table settings and decorations. People seated on each side. Stories being told of how the King saved us. Actually, I think its going to be more than I could ever expect or visually imagine. I was reminded this weekend of how much I long for this celebration?
Save me a place at the table, Lord.
Until then, I'll make sure my memory is stirred as I smell the grilled chicken and BBQ ribs.