May 4, 2022 - Seasons
"Your beauty should not come from outward adornment, such as elaborate hairstyles and the wearing of gold jewelry or fine clothes. Rather, it should be that of your inner self, the unfading beauty of a gentle and quiet spirit, which is of great worth in God's sight." (1 Pet. 3:3-4 NIV)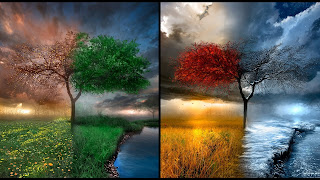 Abraham Lincoln once quipped, "The Lord must love common-looking people because he made so many of them."
A cosmetic salesperson was demonstrating how a certain makeup would change the appearance of a woman's face. A middle-aged woman who was very plain came up to her and asked, "Do you think that it would make me radiant?" She replied, "The only way that a woman is truly radiant is if it comes from within, but I'd be glad to sell you whatever you want as a backup."
I was talking with my bride this week about how beautiful our yard was at this time of year. We have several Eastern Redbud trees - dark purple, light purple, pinkish red. We have a few Magnolias, a Flowering Dogwood, some Red River Birch, and a Blooming Pear (which she hates because it stinks). My comment was, "It's such a shame that their beauty fades so quickly." What starts out with such brilliant color quickly turns to green leaves.
But upon further thought, if those flowers did not turn, then where would the needed summer shade be? It turns out that beauty comes in different forms and in different seasons. Just as I know in about five months another type of beauty will unfold with orange, and reds, and browns, and burnt yellows. My favorite time of the year.
As I reflect on Mother's Day this weekend, I am reminded of the many seasons that I have observed in my mother's life. When I was little, I used to love to go into my mother's room as she was preparing to go out for the night with my dad. Putting on her earrings and necklace - a little perfume. I used to love to look at her in the mirror and look down at her senior picture that she kept on her dresser drawer. I can remember saying, "You were pretty when you were young." A compliment...I thought. She knew what I meant. Seasons.
Now she is in her twilight years but still going strong. Kids all grown. Grandkids and great grandkids getting there as well. Memories of Fourth of July's, Grandma's porch, listening to the organ and piano, playing cards, working in the garden, mowing the yard with that unique orange John Deere riding mower, hanging up laundry outside, roast on the stove, caregiver, newlywed, bowling, Bachi ball player...
My mother was beautiful when she was young. She still is. It's just Fall ~ that's all. My favorite time of the year.
Happy Mother's Day to all the ladies in my life! May the Lord grant you beautiful seasons.