June 23, 2021 - Cherries
"Therefore, I tell you, do not worry about your life, what you will eat or drink; or about your body what you will wear. Is not life more important than food, and the body more important than clothes? Look at at the birds of the air; they do not sow or reap or store away in barns and yet your heavenly Father feeds them. Are you not much more valuable then they?" (Matthew 6:25-26)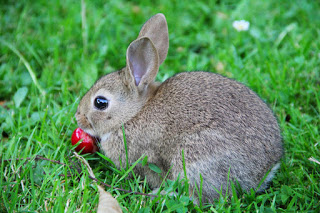 My neighbor, Ron, who knows all things neighborhoody, gave me the low down on my newly acquired house when I moved to Logansport. He told me when trash comes, when recycling comes, where to put my brush, where to buy the best compost bags. He told me about ants and bees and deer and rabbits. He gave me the history of almost every neighbor on the street and contractor who built their homes. Who has basements and who does not.
He told me that the lady that owned the house prior to us was a lover of plants and trees. She just wasn't particular about where she planted them nor was she good at taking care of them. I'll cut her some slack. She was in her 90's. The place looks beautiful in the Spring. Sort of an eclectic menagerie of color in unexpected places but with re-rod stakes and steel hanging pot supports now firmly grown into the living décor. Irretractable.
"Who in their right mind would plant cherry trees on both sides to the entrance of a driveway?" Ron said in utter arbor unbelief. "Now if I were you, I would cut some of those low hanging branches extending over the driveway and then lift up that canopy a bit. Remember that they come and pick up the brush every other week or so. And...well...don't worry about the cherries. We usually get a good freeze in the spring that kills the blossoms."
Ron...you're a liar. The trees were filled with cherries this year. It looks like we go out in the night and butcher small animals in the front of our house. Red squished cherry juice all over the place.
I was out front on the little porch we have one morning, enjoying the early sunshine and warmth, reading the Scriptures, glancing once in a while up toward the crime scene when I began to see the most beautiful cardinals, blue jays, robins, and other assorted fowl landing in my driveway and enjoying the free fruit. Before you know it one, two, then three, playful rabbits found their way out to the feast and enjoyed. I could have sworn that they were having a pit spitting contest but more of my imagination than truth.
I smiled. I was still. I remembered.
I remembered that my life is not to be full of worry or stress. I remembered that God loves the birds and the rabbits. He loves them so much that he had an elderly lady plant dirty, messy, cherry trees at the entrance to a driveway so that in spite of the red-stained concrete, His creation would have something to eat.
I remembered that He loves and cares for me too. I wondered what mess He has provided for me.
I smiled. I was still. The rabbit sure did taste good grilled.