June 15, 2022 - Revived
"Let your hand rest on the man at your right hand, the son of man you have raised up for yourself. 18 Then we will not turn away from you; revive us, and we will call on your name. 19 Restore us, LORD God Almighty; make your face shine on us, that we may be saved." (Ps. 80:17-19 NIV)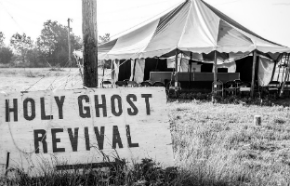 I had the privilege of being a speaker in a week-long community revival. I was night one, speaker two. The theme: unity. The difficulty: out of the fourteen speakers, I only knew two. Well, "knew" as in recognized. A few were from Logansport. Most from outlying churches. A few of us are full-time. Most are bi-vocational caring for small country churches holding on until the last person is buried out the back door. At least they have a cemetery.
It was called a "revival" but technically it is a "renewal" service. To "revive" something is to bring it back to life. As far as I know we're not dead...yet.
It's been nice to hear brothers and one sister share the words of the Holy Spirit on this topic. I have been amazed at the direction each of us has taken and the styles in which we present.
It has been exhilarating. It has been exhausting. It has reminded me that we are not in this fight alone. It has reminded me that there is only so much that we can do together. Unity is a nice theological desire but the practical outworking of it is incredibly difficult. Honestly, I'm not sure what the end desire was to be. It's not like we were fighting with each other.
I have a feeling many in our congregations think that unity is not just the absence of conflict but the desire to serve one another, encourage one another, support one another. They would be correct. But dividing issues can still be present in separation over "pen and pencil" issues as one speaker put it.
Blood binds us but pen and pencil issues separate us or should I say, creates limiting barriers. Even then I'm not sure that I am in agreement that this is a bad thing. Unity is not uniformity. Unity is oneness in diversity. I think we have shown that this week. We are not going to come to an agreement to close down all our churches and meet in the high school gym and share speaking responsibilities. It's not feasible nor is it desirable.
I have an old Puritan preacher in my library, John Owens, who said that when a church gets close to a hundred people start another one. One man can only care for around a hundred people.
I think this is what was missing in the conversation. It's really not about the preaching. It's about the care.
Was I revived? No. Was I renewed? No. Did I gain from meeting new pastors and new brothers and sisters in Christ? Absolutely. Perhaps this was the divine purpose all along. Perhaps there will be a greater purpose as things get more difficult for the Body of Christ. This is my prophetic internal rumbling.
The week was a good reminder of the old hymn:
"We praise thee O God, for the Son of thy love,
For Jesus who died and is now gone above.
Hallelujah, Thine the glory! Hallelujah, amen!
Hallelujah, Thine the glory! Revive us again."
"Will you not revive us again, that Your people may rejoice in You." Psalm 85:6.
It has, indeed, been a week of joy but also a hint of prophetic anticipation.