December 8, 2021 - The Wedding
'"The kingdom of heaven is like a king who prepared a wedding banquet for his son." (Matthew 22:2)
"He has taken me to the banquet hall, and his banner over me is love." (Song of Songs 2:4)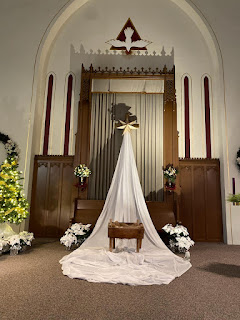 We lost our annual sanctuary decorator this year. She moved south but didn't leave us without guidance. Organized to the "T." Everything labeled. Everything directed. We had another sister in the church who graciously jumped in to take over the reigns. She ended up being sequestered because of some Covid Thanksgiving. Enter in a couple of creative ladies. "Do we have to do things the way they have always been done?" Uh, oh. The question of death to many pastors. "Nope," I confidently answered. In fact, I was hoping for a vision of this...and I explained. "But let's not throw out the baby with the bathwater. Let's keep some traditional things." The end product...breathtaking.
I sat in the back of the sanctuary with the morning sun shining and I realized something. I was looking at a Christmas scene but all I could see was a wedding.
In many countries the father arranges a marriage for his son when he is born or shortly thereafter. It is usually a marriage that benefits both socially and economically. Love is something you will have to choose to do, not necessarily what one falls into.
I sat in sacred silence looking at Christmas trees and lanterns, poinsettias and little choir boys lining the steps of the chancel, realizing that Father, God, arranged a marriage: His Son to his Church, the bride. I sat with both of those images before me. An empty manger in the midst of a bridal train.
A December wedding.
"I, God, choose you..."
"I, _____________, choose you..."