Dec. 3, 2020 - Black, White, and Shades of Grey; The Grinch

"But the angel said to them, 'Do not be afraid. I bring you good news of great joy that will be for all people."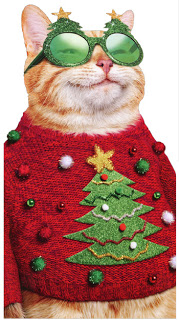 When I was little I always looked forward to the Christmas season, especially the Christmas cards that our family received. My father would play this little game at supper with my sisters and me. My mother would neatly Scotch Tape each card to the brown paneling that was our kitchen - always in a neat row and slightly angled. It was when you could afford to send out a lot of Christmas cards and...stamps. So we would have thirty or forty Christmas cards, some repeats, some homemade, some left over from a horde buy in the 1940's but none-the-less interesting. My father would say, "I'm looking at a card that has a Christmas tree on it." And we would all get one guess to see if we could find it. He would keep giving us clues until we got it. Sometimes he would pick a card that was one of three or four alike. Now things became a bit harder. My dad would say, "This card is from Aunt Gladys." So we had to go beyond the cover to the sender. It caused us to pay a bit more attention to who sent what and actually what they wrote or what was written inside.
Sometimes it was a generic tree card with "Happy Holidays." Others were "glitter" cards, pretty but messy over a kitchen carpet. They still bore the non-offensive, "Happy Holidays" theme. Others were more "religious" in nature with a Birth Narrative quote or a thoughtful prayer from the Psalms or Proverbs. A Christmas collage. A childhood memory.
My daughter sent us a text with a picture saying, "Don We Now Our Plague Apparel." It was a coat rack full of masks. It gave me pause to think about what Christmas cards might say this year and how I might receive the message a bit differently.
It is so easy to be discouraged right now. Planning the Christmas Eve service with my Worship Team..."nope we can't do that...nope, we can't do that either...whoops...that was just limited to fifty and will probably be dropped further knowing that people will want to gather." What's left? No choirs. No brass or woodwind instrumentals? No small group specials. Will anyone come? Will we have too many and have to turn people away (No room at the Inn)? WILL WE HAVE TO CANCEL CHRISTMAS like they are doing in Los Angeles? Yikes!
My favorite Christmas program is the original "The Grinch Who Stole Christmas." If I were to write my own words for a Christmas card it would be....
"How could it be so. It came without ribbons. It came without tags. It came without packages, boxes, or bags. Maybe Christmas he thought, doesn't come from a store. Maybe Christmas perhaps, means a little bit more." It came without choirs. It came without song. It came with requirements to only hum along. It came without specials. It came without brass. It came without woodwinds or spit to be passed. Maybe Christmas, he thought, doesn't come from tradition. Maybe Christmas this year is more about omission.
"But the angel said, 'Do not be afraid..." Christmas will come either way.
P.S. If you would like a homemade card from me, I would be happy to design one for you. I have a hidden stash of glitter in the basement. Total cost: $20 a piece but it does include a stamp and a guarantee to arrive by Resurrection Sunday.