Dec. 16, 2020 - An Authentic Christmas

"And being found in appearance as a man, he humbled himself by becoming obedient to death, even death on a cross." (Philip. 2:8)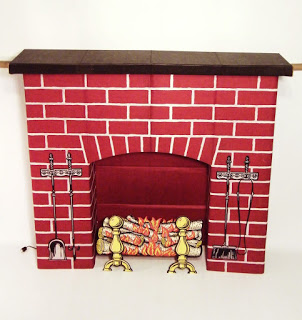 How many of you had those fake cardboard fireplaces growing up? You know the one that had a black mantle to hang your stocking on with the stamped red bricks. But I especially liked the "real" fire. Cardboard log cut outs with a light behind it that had a little circular contraption that moved to give one the illusion that their was a real fire glowing in the background.
It solved the embarrassing question every parent encountered: "If we don't have a fireplace, how is Santa going to come down the chimney and bring us presents?" Problem solved. We make one. One that we can take down before the new year begins. The chimney, they explained, was already built behind the wall. You just can't see it.
It might have been a chuckle to mom and dad but to a little guy, it is a prized Christmas memory. One that I am sure exists only in my head and whose physical contents have long decomposed in a landfill somewhere. I was happy. It didn't matter if it was fake. It was part of the Christmas ambiance.
But now I'm old. The silver threads starting to show in my youthful hair which like prized beach frontage, keeps receding. My patience for the untrue, for the false narrative is shrinking like my height. I long for the authentic, for something real. I'm tired of the fake Jesus the world, and sometimes even the church puts forth for me to worship.
I am hearing more and more people cry out for a real encounter with God this year - to engage with the child in the manger - to be changed. They thought with the Covid stuff that this year might be different, less hectic, more focused. They were wrong. It is just as chaotic as churches scramble to "have Christmas" safely. "How many can we safely have?" "Do we rope off one pew or two?" "If we do have candles, how do we blow them out?" "And what if too many people come?"
Lord, Jesus come! Help!
Maybe that is the most authentic Christmas expectation we should have. To not expect the annual show but Jesus himself, coming in all of His glory. Immanuel. God with us.
That old cardboard fireplace served its purpose visually and perhaps emotionally but one thing it could never do...keep you warm.
Praying for the real thing and a reminder to turn my fake fireplace on in the basement for the grandkids.