April 27, 2022 - Sick
3 Above all, you must understand that in the last days scoffers will come, scoffing and following their own evil desires. 4 They will say, "Where is this 'coming' he promised? Ever since our ancestors died, everything goes on as it has since the beginning of creation." (2 Pet. 3:3-4 NIV)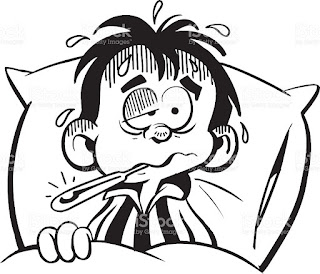 There is a wonderful Bible verse that says, "Hope deferred makes the heart sick, but a longing fulfilled is like a tree of life" (Prov. 13:12)
I must admit that I'm feeling a bit sick. As I watch the world that I live in become more and more corrupt especially with designed attacks on the hearts and mind of innocent children through this gender confusion nonsense, I am trying to have a biblical attitude toward it all.
First of all, I know that it is not as bad as it once was or is going to be. In the days of Noah, the Bible says that "every inclination of the heart was evil." I know that I don't live under Viking savagery or Roman occupation or quite honestly, current Russian hostility. Considering it all, I still live safe and sound with sufficient food and housing, and with the people that I love. I still, for the most part, live free.
Second, I'm not denying the coming of Jesus. Actually, the opposite. As the Apostle Paul encouraged pastor Timothy...be someone who "longs for His appearing."
I'm just tired of the wait. More and more I find that Psalm 73:25 is my ongoing meditation and reality. "Whom have I in heaven but you? And earth has nothing I desire besides you." The old church Fathers used to call this "dispassion."
Third, sometimes my sinful doubt rears its ugly head. Sometimes words float in my mind, "where is this 'coming' he promised...everything goes on as it has since the beginning of creation." It's like a parent who keeps telling his child that something wonderful is coming but after a while the child shrugs his shoulders and moves on with life. "I'll believe it when I see it" or "that's nice but life moves on without it," or "you are always saying stuff like this, but nothing ever comes to pass."
Fourth, I continue to read the words of Peter. Just like in the days of Noah...suddenly the world was engulfed with water and destruction covered the earth. Only eight were saved. God has a plan and a timing that goes with that plan that I do not understand.
My neighbor, Ron, down the street (not Ron, who knows everything neighbory), is suffering from prostate cancer. He's in his 80's and will probably die of something else first. Ron is a believer and sometimes we stop and have theological discussions while his dog chases rabbits. Ron said something likeminded the other day that I came into agreement with - "I don't know what the Lord is waiting for. Let's get out of here!" Waiting for the uptaker not the undertaker.
Last, while I wrestle with staying, God is being merciful to those not yet ready to go. My impatience is selfish to some extent. Admittedly so.
Still sick but feeling better about it.